September - Tilted Kilt
The It Factor's services include a comprehensive media plan and the buying of ad space on leading lifestyle websites, local print publications and outdoor media. The combination of an ongoing social media strategy and a PR concept tailored to The Tilted Kilt create brand awareness and guarantee a consistent relationship management with fans and potential customers. Email and direct mail programs, street promotions and appearances on trade shows complete the promotion of the restaurants.
In addition, The It Factor organizes the Friends & Family and the VIP Opening Nights for The Tilted Kilt with an exciting mixture of music entertainment, celebrity appearances, drawings and a red carpet setting.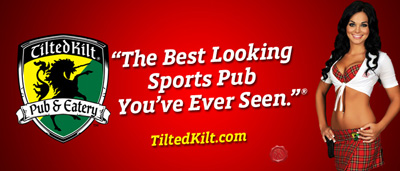 Please contact Natasha Borota, natasha@itfactor.biz, if you're looking for a marketing agency and are interested in our services.